Our development and support cycle on Windows Mobile and Windows CE.NET platform has ended on June/2016.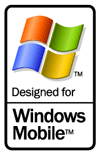 Price:
Unavailable
About this software
Release:
Mar/2011
Current Version:
1.0.0.0 - Mar/2011
Platform:
Windows Mobile
Category:
Automação de Força de Vendas
Type of Product:
For License
Minimum Requirements:

Dispositivos Windows® Mobile ou Windows® CE com Microsoft® .NET Compact Framework 1.0 SP3
Incluindo versões antigas Pocket PC 2000, Pocket PC 2002 e Windows Mobile Software for Pocket PC 2003.
A versão normal deste software baseia-se no uso em dispositivos portáteis com tela de 240x320 pixels. Caso seja necessário, consulte-nos sobre a possibilidade de adaptação em outras resoluções gráficas.

Description
Aplicativo para vendedores e representantes comerciais para automação da coleta de pedidos de venda.
O HandOrders WM controla clientes, condições de pagamento, produtos, tabelas de preços, estoque e vendas em caixas e unidades.
Moderno, ágil e compacto. Gera arquivo XML individual do pedido permitindo seu envio por e-mail.
Conheça também a solução HandOrders para dispositivos Google® Android.
See details on document

HandOrdersWM.pdf